Spring
Apple blossoming: tight cluster and pink stages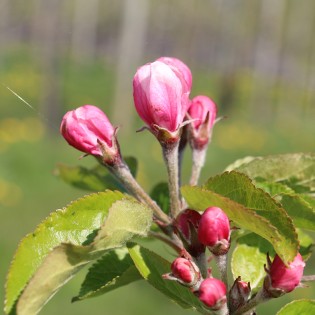 Spring only really begins for an orchardist with the onset of the blossom season. In order for the winter buds to turn into blossom, they require sufficient warmth and light. Depending on the year it can be earlier or later in the season that the necessary cumulative temperature levels are reached to open the buds that then develop into florescence.
In the warm weeks of March/April, there are only a few days between the tight cluster stage during which the burst buds show small green leaf tips und the pink stage when glowing red apple petals become visible. However, this transition may take up to 2-3 weeks if temperatures are still in single digits during day and night.
For us orchardists, this is always an exciting time of year. It's when you get to see whether a tree has developed sufficient flower buds over the past months that would allow for a good harvest. Often it is the case that the harvest of the previous year has exhausted the tree and it does not have enough energy or nutrients to regrow many new buds. The phenomenon is called alternation, because the trees alternate and only carry enough fruit every two years. This is typical for apple varieties like Boskoop or Elstar. Using suitable culturing interventions like fruit thinning or cutting out buds if there is a surplus, a skilled craftsman can counter this natural occurrence. Only steady and balanced trees can carry tasty fruit that keeps well.
Back to Category